Discover the Great Taste of Nice!
Sure, Nice may not be the food capital of the world, but that doesn't mean that our Nice Food Tour isn't something that will have your mouth watering simply by the smell alone! Nice has a rather interesting food scene. But to fully understand it, we'll need to take you back to long before Nice was the French city it is today.
If you've been to Nice before, you may have noticed that the architecture here is much more Italian looking than French. Well that's because Nice has only actually been a part of France since the 1860's! Kind of bizarre to think about, right? Well, until then, Nice belonged to the Kingdom of Sardinia, which was affiliated with present day Italy. Hence the rather large Italian influence that can be seen here today.
So, having belonged to the Kingdom of Sardinia, yet also being entirely surrounded by France, the people of Nice developed their own unique culture. They had their own language, their own traditions, and of course, their own cuisine. Throughout this tour, you'll get to experience a unique blend of both French and Italian cuisine that you won't find anywhere else. As well as some of the local specialties native only to the Nice region! Your taste buds will practically be dancing in your mouth.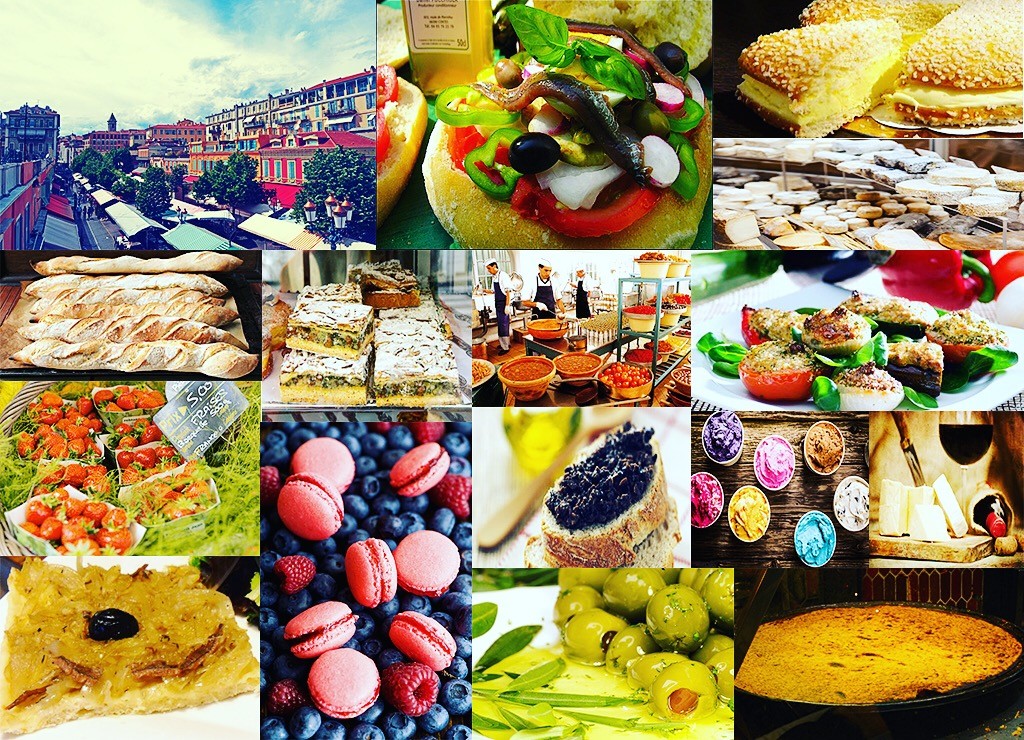 How does it work?
Our guides will be waiting for you in Masséna Square at the designated meeting time of 10:00 a.m. Make sure to keep an eye out for the red umbrella! From there, they will lead you through the enchanting Old Town of Nice where you'll stop off at a total of 7 venues. Each venue has its own quaint little touch that gives it that typical European charm.
Over the course of this Nice Food Tour, we'll sample up to 15 different local specialties such as Socca, Pan Bagnat, Pissaldiere and many many more. And don't worry, the menu won't be restricted solely to savour dishes, you'll also get to try some typical desserts and pastries as well! Discover the very best on Nice one bite at a time!
And while we're at it, why not enjoy a glass of wine or two with your lunch?! Don't worry, it's not an uncommon thing to do here in France. And as the saying goes: "When in Rome, do as the Romans do!"
To finish the tour, we couldn't possibly let you walk away without a little souvenir to commemorate your time here. We can't tell you what it is though, that would just ruin the surprise! So, you'll just have to come along on the tour if you want to find out! Don't worry, either way, we can promise that it will be worth it. Especially when you're walking away with a very full and happy tummy.
When and Where?
Tour Duration: 3 hours
Meeting Point: By the Apollo Statue in Masséna Square
Meeting Time: 10:00 a.m.
Days: Every Tuesday, Thursday and Saturday between April and September
Prices: EUR 70 per person
Languages: English
Included :
3 hours with friendly local guide
Visiting 7 locations where you will taste the different Nicoise specialties
Over 15 Tastings
Great insight of Nicoise and Mediterranean cuisine
Small intimate group
Souvenir from Nice
Plenty Artisans food tasting in different locations
Tour Available in English
Excluded :
Bookings
Usually, we try to operate our Food tours in Nice with groups of 2-15 people. And why such small group sizes you may wonder? Well, in our years of experience, we've learned that having smaller groups allows for a more intimate affair. This is a factor we like to put major emphasis on! Afterall, nothing makes food taste better than eating it in great company. And who knows, you may come away from this experience having made some new lifelong friends.
However, due to our small group capacities and the tour's popularity, we highly recommend that you book online in advance to avoid disappointment.
If you are travelling with a large group, then don't worry! Our company also offers the Nice Food Tour as a private event. All you have to do is let us know in advance via our email (info@rivierabarcrawltours.com) and we'll sort out the perfect day for you and your entourage!